[ad_1]

Jump to:
This week's winners
Shortlisted and finalists
This week's opportunities
Awards:
Melville Contemporary Art Prize
For 2023, the Melville Contemporary Art Prize is awarding commissions to six WA artists to produce experimental new art for a group exhibition at Goolugatup Heathcote. Each artist receives a $3000 fee. Submit your CV and artist website.
Applications close midnight 11 January; learn more.
The Diotima Prize
'Why is philosophy so male-dominated?' The new Diotima Prize aims to use drama to focus on this question and redress the imbalance. With money from the Australian Research Council, three one-act play submissions will win $5000 each and have their plays presented as a staged reading, during a culminating event in 2024. Interested playwrights can sign up for a research-based writing workshop in March.
Submissions due April; learn more.
Read: Prizes and competitions to enter in 2023
Commissions:
Radical Access Commission
Chunky Move and Melbourne Fringe are partnering to offer a $40,000 Radical Access Commission to an experienced dance or movement artist who identifies as Deaf or Disabled. The successful applicant will create a brand new work that responds to the creative provocation of 'Radical Access' to be presented at the 2023 Melbourne Fringe Festival. Additionally, the recipient will also receive studio space at Chunky Move, production, marketing and producing support, plus dedicated access funds, and artistic mentorship and guidance from Michelle Ryan (Artistic Director of Restless Dance Theatre) and Antony Hamilton (Artistic Director of Chunky Move). 
Applications close 22 January; learn more and apply.
Devonport public art commissions (Tas)
First impressions of Devonport are set to receive a makeover, through a series of public art commissions worth $1.15 million, with the Devonport City Council calling for expressions of interest from artists statewide. The works will be placed at the city's eight key entry sites, including the Tarleton Street/Bass Highway underpass, on John Street and at the Don Road interchange.
EOIs close 24 February; learn more.
Grants and funding:
Arts Activities (ACT)
Applications are open for Arts Activities, which aims to support Canberra artists, groups and organisations to create new work, gain professional skills and development, and undertake community arts and arts promotion. Current rounds are open for grants up to $5000 and between $5000 and $50,000 for 2022-23. 
Submissions close 28 February for Arts Activities $5000 to $50,000; submissions close 30 June for Arts Activities up to $5000; submit.
RANT Quick Response Grants (Tas)
Quick Response Grants up to $3000 will fund professional development opportunities for artists and arts workers or small project opportunities. The program supports immediate needs that arise when an activity is unable to be planned for or supported in other funding rounds, for example taking up professional development, skills development or small project opportunities at short notice.
Applications open February; learn more.
Art Music Fund
Applications are open for APRA AMCOS' Art Music Fund with 11 grants of $7500 on offer. Australian and New Zealand art music composers are eligible for the program to support the creation of new commissioned work. 
Applications close 16 February; learn more and apply.
Minderoo Foundation Artist Fund (WA)
The Minderoo Foundation Artist Fund is an annual funding opportunity for mid-career artists to explore and create new work in Western Australia. With $175,000 in grants and residencies available, all mid-career artists are invited to start preparing ideas for their next ambitious project.
EOIs open in February; subscribe to be notified.
Callouts:
Country to Couture 2023
The Darwin Aboriginal Art Fair (DAAF) Foundation's Indigenous Fashion Projects (IFP) invites applications to be part of the Country to Couture fashion showcase returning in August as part of the annual event. IFP is looking to showcase new and innovative fashion and textile collections from First Nations artists and designers, and/or collaborations where Indigenous agency and ethical practice are at the forefront. 
EOIs close 30 January; learn more and apply.
SWELL Sculpture Festival 2023
Entries are now open for the 21st annual SWELL Sculpture Festival, the largest outdoor sculpture exhibition in Queensland. Over $32,500 in awards, additional artist subsidies, programming and installation support are available. The festival will run from 8-17 September 2023. The open call invites artists to express their ideas and create sculptures that convey stories unique to them. 
Entries close 31 January; learn more and apply.
Hereafter The Art Global Open Call
Hereafter The Art is a new project inviting 100 artists around the globe to explore the future of art. Artists are invited to create one NFT comprising two parts, a self-portrait and an essay. The essay will be sealed in a virtual time capsule as a letter to the future, to be randomly opened in one to five years.
Applications are currently open; learn more.
2023 Darwin Fringe Festival 
Applications are open for 2023 Darwin Fringe. There are three ways to participate: be a part of the Curated Fringe Hub Program, produce an event in non-hub venues or put on a performance (not a full-length show). Read the Artist Pack before applying. Darwin Fringe runs from 14-23 July 2023. 
Hub and General Applications close 29 January; Performance Applications are currently open.
un Magazine 17.1
un Projects is inviting proposals for un Magazine Issue 17.1 guest edited by Bahar Sayed and Gemma Weston, to be guided by the theme of 'resist'. Contributors are invited to explore the ways that resistance can be enacted and understood through the artistic, cultural, conceptual and political. Artworks, artist pages, reviews, critiques, essays, artist profiles, conversations, interviews, historical research, and other writing that emerges from arts practice are welcome.
Submissions close 6 February; learn more and submit.
Professional development:
2023 NATSIMO Screen Composer Intensive
Call for Expressions of Interest from Aboriginal and/or Torres Strait Islander music creators are open for the professional development opportunity hosted by the National Aboriginal and Torres Strait Islander Music Office (NATSIMO). The successful applicant will undertake a three-month, Sydney-based program that explores the key practices of screen composition and immersion in production settings. As part of the intensive, the participant will create a soundtrack for a short film with guidance from screen composer mentor Ken Francis.
Applications close 20 January; learn more and apply.
Emerging Producers Lab 2023-24
Theatre Network Australia (TNA) has launched a new program for Circus and Physical Theatre producers, the Emerging Producers Lab. The dedicated, paid program aims to upskill and support emerging producers, and facilitate their professional development and capacity to work with Victorian circus and physical theatre artists and organisations. The Lab will consist of 10 professional development workshops, bespoke to the most urgent needs, skills and conversations that the participants identify. In addition to these monthly group sessions, participants will be supported to work on their own producing practice over the 12 months.
EOIs close 30 January; learn more and apply.
2023 NSW Visual Arts Fellowship (Emerging)
This Artspace Fellowship program offers a unique opportunity for emerging visual artists to receive curatorial support and mentorship from Artspace to realise works for an exhibition in July 2023, presented at Carriageworks. Offered by Create NSW, the recipient will receive $30,000 to undertake a self-directed program of professional development, including but not limited to travel, mentorships, internships, courses, research and the creation of new work.
Applications close 7 February; learn more and apply. 
The Marten Bequest Scholarship
The Marten Bequest Scholarships offer talented young artists the chance to explore, study and develop their artistic gifts through travelling either interstate and/or overseas. The scholarships provide $50,000 in quarterly instalments over two years under the categories of acting, architecture, ballet, instrumental music, painting, poetry, prose, sculpture and singing.
Applications close 7 February; learn more and apply.
2023 ANAT Synapse Residency
ANAT is calling for applications from artists and scientists for the Synapse Residency program, which, since 2004, has enabled research collaborations between more than 100 artists and scientists. Residencies take place over 16 weeks full-time, the equivalent part-time, or, in discrete blocks over a longer duration during 2023. ANAT will pay participating artists a fee and contribute towards project material costs, accommodation expenses and return travel to the destination of the residency if required. 
Applications close 16 February; learn more and apply.
Kingston Arts Grants 2023-2024
The City of Kingston invites artists, community arts groups and local makers and creative businesses to make an application to the Arts Grants Program for activities taking place between July 2023 and June 2024.
Applications open 30 January – 30 March; learn more.
GreenHouse Artist Residency (NSW)
GreenHouse: National Artist Residency is an immersive, residential creative development program for live performance makers from across Australia who are invested in developing new work, expanding their artistic process and embarking on radical experimentation. Situated on Wiradjuri Country, HotHouse Theatre's GreenHouse is a five-bedroom, two-bathroom house and rehearsal studio located in the Wonga Wetlands, a 10-minute drive from the Albury CBD. Submissions are currently accepted for the residency period from 1 May 2023 to December 2023.
Submissions close 6 March; learn more and apply.
Want more? Visit our Opportunities page for more open competitions, prizes, EOIs and call outs.
This week's winners
Visual arts:
Multicultural Arts Victoria (MAV) has revealed the Diasporas Artist Team who will lead the Diasporas 2023 program. They are: Vicki Kinai, Irihipeti Waretini, Katherine Gailer, Bella Waru, MzRizk, and Julie Ann Minaai.
Performing arts:
The winners of the MusicACT Music Awards 2022 (MAMAs) have been announced. Independent Debut of the Year 2022 went to Canberra-based funk, indie-pop group Muesli for 'Hello Out There'. Ghanaian-Australian singer Genesis Owusu took out Artist of the Year 2022, with Sarah O'Malley, Director of Burntout Bookings, named Industry Legend of the Year 2022. In addition, the MusicACT Hall of Fame Inductees were Beth Tully and Nigel McRae (Smith's Alternative), Duncan Lowe (Infidel Studios) and Ryan Sabet (Kicks Entertainment).
Writing and publishing:
The recipients of the 2022 Tasmanian Literary Awards were announced in December, including The Labyrinth by Amanda Lohrey (Text), Flight Lines by Andrew Darby (A&U), Intimate, low-voiced, delicate things by Esther Ottaway (Puncher & Wattmann) and Ella and the Ocean by Lian Tanner and Jonathan Bentley (A&U). The Tasmanian Aboriginal Writer's Fellowship went to Jennifer Evans, and the Tasmanian Young Writer's Fellowship went to Stephanie Jack. Cameron Hindrum's The Sand took out the University of Tasmania Prize for best new unpublished literary work by a Tasmanian writer.
The winners of the inaugural Mascara Varuna Writers' and Editors' Residency have been announced. The successful writers and their manuscripts are:
Timmah Ball, for experimental nonfiction collection Blue Print for Another World
Alison J Barton, for poetry collection Not Telling
Vivienne Cleven, for novel Beautiful Monsters, and
Maria van Neerven, for poetry collection To Give Them a Voice.
The inaugural residency, open to First Nations and Culturally and Linguistically Diverse (CaLD) writers who are working on a creative manuscript, received 78 entries. Judges Lucy Van and Melissa Lucashenko said that 'of this high-quality field', the winning four submissions 'were exceptional for the grace, precision and perception of their writing'. The four successful fellows receive an all-expenses paid, fully catered residency at Varuna, the National Writers' House in the Blue Mountains.
All:
On 23 December, the City of Melbourne allocated more than $175,000 across 49 projects through its 2022 Quick Response Arts Grants program to support nearly 350 artists to develop and present their work in public. Successful recipients include:  
Aboriginal artist Amy Dowd for the composition and development of a solo debut album
Artists for Kids Culture for the artsbus mobile arts studio, bringing inclusive and meaningful arts opportunities to kids aged 5-12
Neurodiverse artists Kin Francis and KITTLING produce Good Trip: a two-night nightclub for Disabled and Neurodiverse audiences
Coady Green and Indigenous narrator Tiriki Onus for a 45-minute piano work composed by Linda Kouvaras, and
Snuff Puppets for an ornate 14-metre inflatable artwork representing the anatomical structures of the inner ear.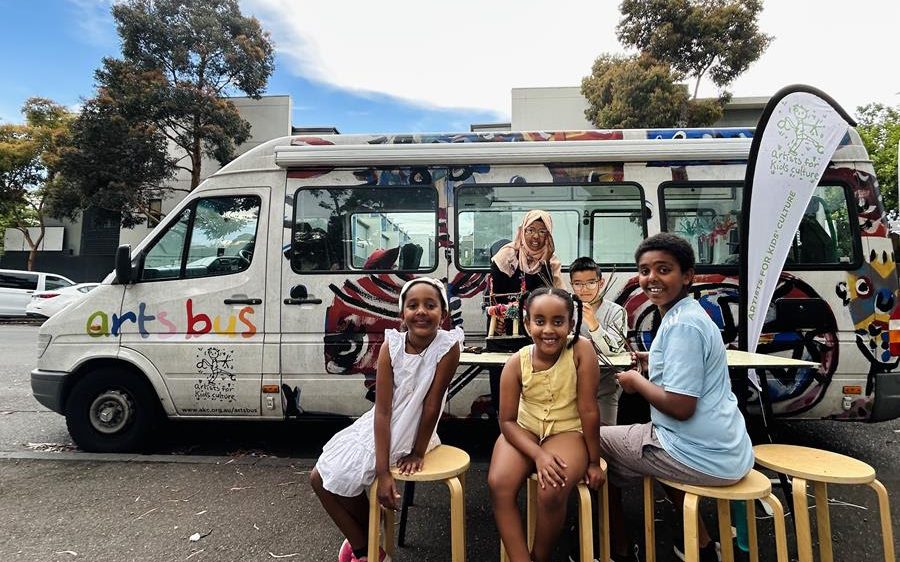 Shortlisted and finalists
The 2023 Peter Porter Poetry Prize announced its shortlist of poets who are now in the running for a major prize of $6000. Shortlisted poets are Chris Andrews (NSW), Chris Arnold (WA), Michelle Cahill (NSW), Dan Disney (South Korea) and Raisa Tolchinsky (US). This year the judges are Sarah Holland-Batt (award-winning poet and Chair of Australian Book Review), Des Cowley (poetry publisher and former Rare Books Librarian at the State Library of Victoria) and James Jiang (literary critic and Assistant Editor at Griffith Review). They chose the five shortlisted poems from a field of 1132 entries from 34 different countries. The shortlisted poems will appear in the January-February 2023 issue of Australian Book Review with the official awards ceremony taking place via Zoom on 19 January.
Nominations have been announced for the 2022 Sydney Theatre Awards across 28 categories, including 55 different productions that played on Sydney stages during 2022. Leading the list with six nominations is Amadeus (produced by Red Line Productions and Sydney Opera House), Nice Work If You Can Get It (Michelle Guthrie in association with Hayes Theatre Co), Strange Case of Dr Jekyll and Mr Hyde (Sydney Theatre Company) and The Tempest (Sydney Theatre Company).
Receiving five nominations are Albion (Secret House, New Ghosts Theatre Company and Seymour Centre), Cleansed (Red Line Productions), The Jungle and the Sea (Belvoir) and A Raisin in the Sun (Sydney Theatre Company). The nominees for Best Mainstage Production are Amadeus (Red Line Productions and Sydney Opera House), The Jungle and the Sea (Belvoir), A Raisin in the Sun (Sydney Theatre Company), Strange Case of Dr Jekyll and Mr Hyde (Sydney Theatre Company) and Whitefella Yella Tree (Griffin Theatre Company). The nominees for Best Independent Production are Albion (Secret House, New Ghosts Theatre Company and Seymour Centre), Gods and Little Fishes (New Theatre), Cleansed (Red Line Productions) and The Seven Deadly Sins & Mahagonny Songspiel (Red Line Productions). An industry gala ceremony will be held on 23 January at the York Theatre, Seymour Centre.
Check out previous Opportunities and Awards wraps for more announcements.
[ad_2]