First of several local Remembrance Day ceremonies Sunday in Burford
[ad_1]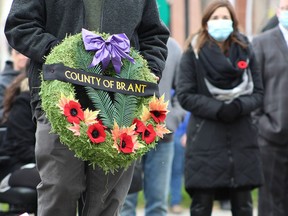 Content of the article
The first of several local Remembrance Day ceremonies will take place in Burford on Sunday.
Content of the article
Visitors are invited to gather at the Burford Cenotaph for an interfaith Remembrance Day service on Sunday from 1:30 p.m. to 2 p.m.
Another ceremony will be held in Burford on November 11, Remembrance Day, at the Cenotaph from 10:30 a.m. to 11:30 a.m.
The City of Brantford is making final plans for a Nov. 11 ceremony at the Brant County War Memorial. People can gather in War Memorial Park and along Dalhousie, Brant and West streets to recognize the courage and sacrifice of those who served and those who are currently serving their country.
Hundreds of people usually gather at the memorial on the 11e hour of 11e day of 11e month, commemorating the armistice declared between the Allied nations and Germany during the Great War.
Content of the article
The Reverend Jim Sutton, Chaplain of Branch 461, Royal Canadian Legion, will act as Master of Ceremonies, accompanied by members of the 56e Field Regiment.
Members of the Brantford cadets will participate in a night vigil at the Cenotaph.
A parade from Harmony Square, which includes veterans, Legion members, federal, provincial, municipal and county dignitaries, and first responders will head to the Cenotaph to lay wreaths.
The ceremony begins with the final bell, followed at 11 a.m. by the lowering of the Canadian flag, the firing of the Minute Gun and a two-minute silence.
Memorial Cross recipients Helen Zuidema and Richard Leary must lay the official wreath.
son of Zuidema, Rider Larry Rudd, of 1st Battalion of the Royal Canadian Dragoons, died in May 2010 when an improvised explosive device was detonated during a routine security operation just outside Kandahar City. He was 26 years old.
Content of the article
Leary's son, Cpt. Richard (Steve) Leary, platoon commander of the 2n/a The Princess Patricia's Canadian Light Infantry Regiment Battalion, based in Shilo, Manitoba, died on June 3, 2008 from wounds sustained when Afghan and Canadian soldiers came under small arms fire in the Panjwaii district of Afghanistan .
A flypast, by vintage aircraft provided by the Canadian Warplane Heritage Museum, is scheduled for 11:18 a.m.
The Brant Men of Song will perform an anthem and God Save the King. Student Madison Thompson must recite In Flanders Fields.
Some roads will be closed during the ceremony. Dalhousie Street, from Market Street to Brant Avenue, will be closed on Friday, November 11 from 9:30 a.m. to 11:45 a.m. Brant Avenue between Church and Colborne streets will also be closed during this time.
There will be free parking between 10 a.m. and 1 p.m. on November 11 in the downtown municipal lots. Parking time restrictions in downtown on-street parking spaces will be removed. Veteran parking will be available in the RBC parking lot.
Brantford Transit fares will be waived for passengers wearing a poppy to and from the service.
Also on November 11, a Remembrance Day Mass will be held at the Cenotaph in Paris from 11 a.m. to 11:30 a.m. and at the Cenotaph in St. George from 10:45 a.m. to noon.
[ad_2]